Aangan – the newly opened Indian restaurant at Al Husn, in Barr al Jissah Resort & Spa – promises a feast for the senses created by visiting Michelin starred Chef Rohit Ghai
A maze of mirror-work installed on one wall brings in an element of mystery but the brass trimmings and warm oriental lamps overhead tone down the ambience to offer an evening of relaxation. Then the magic begins…as vapours and aromas filter in from an adjacent kitchen where Indian culinary delights are being crafted, not cooked.
You have walked into Aangan, the new courtyard restaurant in Al Husn, in Barr al Jissah Resort & Spa, that has thrown its doors open to diners in Oman who seek a genuine fine-dining experience with Indian cuisine. And, if you're expecting a fiery treat that would throw you off balance, relax…this one takes you on an authentic culinary journey to savour some time-tested, classic recipes that entreat the palate of every guest with a touch of class.
Recipes for this new 'experience' have been created by visiting critically acclaimed Indian chef, Rohit Ghai, who believes that food must be prepared 'with heart and soul' for it to be well received – a trait he learnt from his own mother as a young lad, long before he entered the hospitality industry to don the chef's cap.
Chef Rohit had never intended to join the hospitality and had, in fact, applied to join the National Defence Academy as his parents had intended. However, disappointed on his way back from a selection, he chanced upon an advertisement for the hospitality industry and soon things took a turn in his life as he felt naturally tuned towards this.
Dream fulfilled
After attaining formal education from a reputed Indian institute, Ghai set out, working for a string of prestigious hotels in India, including The Oberoi in Mumbai, which shaped his career on sound lines and set the ball rolling for a promising future. His dream, however, was to be someday working in London.
After moving to the UK in 2007, Rohit worked and headed kitchens at some of London's leading Indian restaurants such as Benares, Trishna, Gymkhana, Hoppers and most recently Jamavar and Bombay Bustle. He is the first Indian chef to have won a Michelin star for Jamavar within ten months of the restaurant's opening.
He later started a few of his own restaurants in London, including Kutir, Manthan, KoolCha (Indian street food joint) as well as has been instrumental in opening a few Indian restaurants in the UAE. Aangan will be his 25th restaurant opening and it marks an important milestone in his career as a chef and restaurateur.
Chef Rohit has come to Oman on a few occasions in the past, including to streamline the cuisine at different restaurants in the resort. This has given him a sound understanding of the tastes and preferences of diners in Oman and enabled him to craft his recipes to suit the palate of Arabs as well as international diners.
At Aangan, Chef Rohit has created a special menu for the opening season. This will be reviewed by and by, and new dishes introduced every quarter to give diners a reason to keep coming back.
"Coming to Oman is like home for me," says Chef Rohit, sharing his fondness for the resort and his keenness to offer something new in Indian fine dining to guests in the sultanate. "The plan is to keep my brand alive in the region – I started with Qatar, then Dubai, Oman, and soon I will be going to Saudi Arabia."
Aangan in Oman provides the relaxed courtyard experience of dining but the food offered is fine dining cuisine, he said, adding, "I really want to showcase my signature dishes throughout Oman. Some of the dishes have been created only for Aangan while some comprise my signature curries, parathas and desserts with a unique twist."
Authentic spice levels
About adapting classic Indian dishes to suit the international palate, Chef Rohit said a majority of diners in his restaurants are westerners and those from Europe, all of whom have got tuned to enjoying authentic Indian cuisine. So, he does not change recipes or water down the spice levels as that would 'destroy' a dish, rather than make it enjoyable.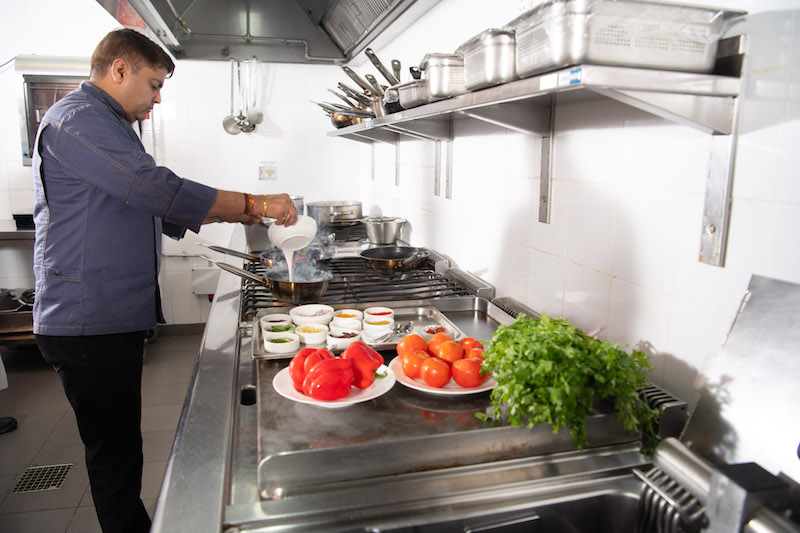 "I don't cook according to the palate as some restaurants do, unless I get a specific request to tone down the spice levels for some diners who have a health issue," he said, adding that this is possible for customised celebration cuisine rather than for the regular fare at the restaurant. "My flavours and spice levels are just the same as I would do it in India and I prepare my own spice mixes, chutneys and pickles that are served as accompaniments."
Chef Rohit has trained his team in Oman, who have been with him earlier in the UAE too, to prepare the dishes just as he wants it every time. "I have done three successful events here in the past and diners have never complained about the spice level. People think Indian food is spicy – I try to have a very good balance between the spice level and the 'hotness' (pungency). Even for meats and seafood, I don't use strong spices, as some of these are delicate and need to be handled in a delicate manner," he asserted.
Chef Rohit believes in using all spices and ingredients, especially seafood, poultry, vegetables, that are locally procured, so as to support local businesses as well as for diners to be able to relate to the local produce. He also puts in much effort for presentation of every dish, especially deserts, often creating something new that is inspired by traditional dishes.
Admitting that his mother has tasted some of his dishes and, indeed, given him a 'thumbs up' for certain dishes that he has learnt from back home, Chef Rohit disclosed that his family is vegetarian but he had to go a step further and master non-vegetarian dishes.
"My mother always told me, Rohit, whatever you cook, cook with your heart and soul. If your do so, you will not need any special ingredient," Chef Rohit said, adding, "When I recruit people for my team, I don't look for their skill, I look for flexibility and attitude – the rest I'm there to teach."
Chef Rohit's reality check
Aangan is – a new platform for my signature dishes
I consider Shangri La – a good, reputed name in the market
We're beginning with – a limited a la carte menu
In the future – we will add a flexible dining experience
I don't believe in – live stations, that's old school
My favourite ingredient – black cardamom
My favourite food – venison
My favourite dessert – bread-butter pudding
I's love to live forever in – Mauritius
Oman is synonymous with – natural beauty